Congrats to Harley who was adopted last week after 4 1/2 years at the shelter. She was adopted by Miltie, a veteran Hi Tor volunteer, and she's doing great!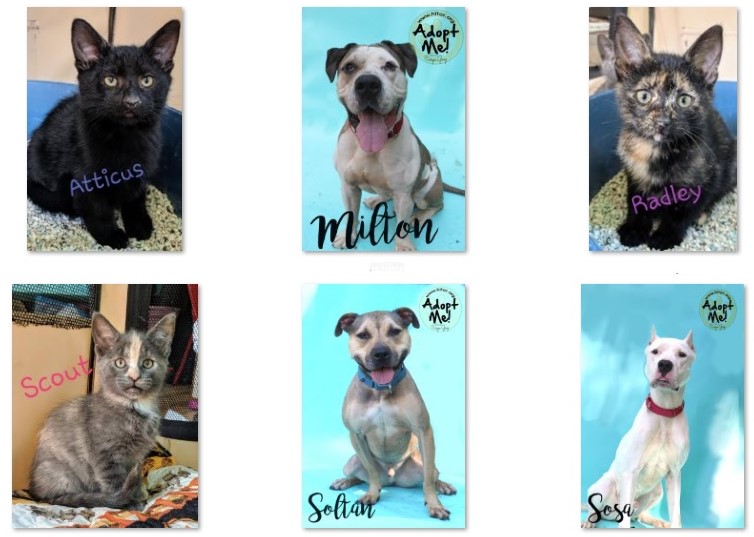 This handsome 10 years-young guy is Milton. He has quickly won the hearts of staff and volunteers alike. He was brought in as a stray and appeared to have been outside for quite a while. When he came in, he was full of ticks, but after our staff cleaned him up and a vet visit, Milton is now doing great. He needs some leash walking skills and he knows some basic commands but, he's quite a sweetie. Milton wants to live out his days as an only pet. Due to his strength, a home with teenagers twelve and up would be best.
Sosa is a lovable Great Dane/ Dogo mix. Sosa thinks he's a 15-pound lap dog that just so happens to easily reach your face for kisses. He's seven years-old who was found by the police as a stray. He was brought to a local vet and checked out because he was malnourished and very, very skinny. His chip was registered to a person in Pennsylvania who sold him on Craigslist, so we have no idea how he ended up in Rockland! Sosa is great with people and kids. He is extra-large but very gentle. He would need a meet-and-greet with any other dogs but could not live with cats.
Soltan is a two- to three-year-old mutt. Handsome with his five o'clock shadow, this young pup is active and fun. He is working on his leash walking skills and knows some basic commands. He is especially distracted by our resident cats, and that means he needs a cat-free household. This handsome guy will be a great companion with a little consistency, training and structure. Come rescue Soltan, he will be the best friend one could ask for.
For more information on Milton, Sosa or Soltan please email Doug at doug@hitor.org. To apply for adoption visit www.hitor.org.
Check out this 8 ½ year-old group of kittens! They are all currently in foster care. Atticus is an 8 1/2 week-old kitten who is very energetic and the most outgoing of the group. He's very social and very curious and not afraid of anything! Scout is very nurturing to her siblings, she is like the mama of the group. She is a born leader and the most curious. Scout is always the first to investigate. Radley is very energetic, and like any kitten he should be, but he can also be very shy, as well. He takes a bit to warm up to you. He loves to sit and watch his siblings play and roughhouse.
Please email Kristine at Kristine@hitor.org for an application or you can download one from hitor.org.  Once approved, we can schedule a meet-and-greet.