For info on any of these kittens please email Kristine@hitor.org.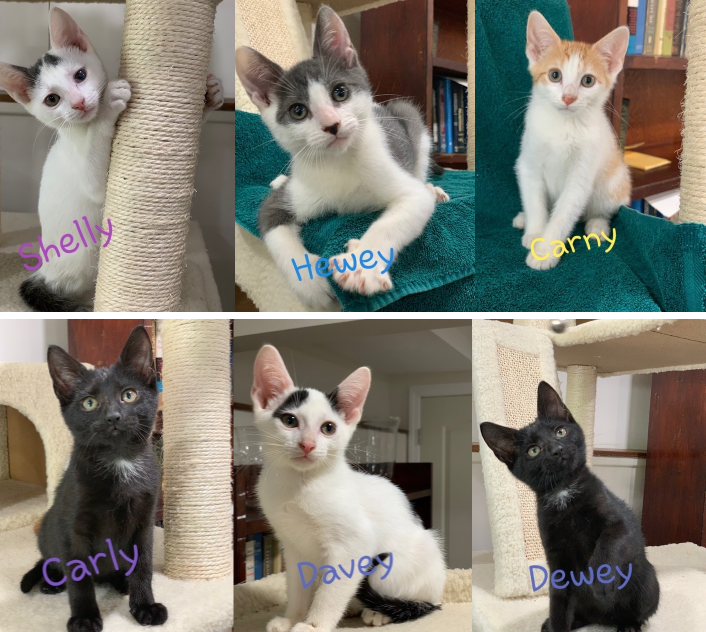 SHELLY: A super-sweet little girl who came into foster care with a severe illness which left her with a permanent loss of vision in one eye, but that doesn't stop her from being the most inquisitive and super-curious kitten of her litter mates. She doesn't want to miss a thing and will follow you everywhere hoping to find something new and exciting to explore.  She loves people and being held even more!  One of her favorite places to be is on her foster mom's shoulders while hugging her head.
HEWEY: This little guy is a certified lap kitten, happiest with company (human or kitten), he doesn't like being by himself.  Playful, smart, inquisitive, he's another happy go lucky, well-socialized kitten in this happy bunch.
CARNY: This little girl is very loving and care-free. She loves to play with her littermates, but she is also ok being by herself. She's a champion cuddler, but something may catch her attention and off she goes to a new adventure! Carny will follow her favorite human around the house, she's definitely a follower, not a leader.
CARLY: This little girl is the best-est snuggle bunny of them all.  She would love to sit in your lap for hours.  She's the sweetest little thing who can't wait to climb into your arms for an all-day snuggle fest.
DAVEY: Davey foster's mom is not embarrassed to gush over this little guy. There's no other place he'd rather be than in her arms being carried around.  He's a smart little guy who follows his foster mom everywhere. He's a guaranteed purrrrr machine, his little motor starts the moment she comes into their room.  He doesn't mind the family dog and enjoys the company of anyone who pays any attention to him.
DEWEY: Another super-loving, super social, super playful little boy who seeks the company of others.  Dewey loves being held and carried around. This docile little guy would do best being adopted with a littermate – double the love, double the fun!!!